Mothe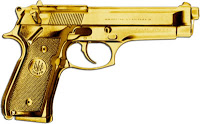 r and daughter, stood facing each other. Mother in a black dress and Louboutin pumps; her blonde hair pulled up in a classic French pleat. She took her daughter's hand and there in the palm firmly placed the gold gun.
Her daughter, a younger image of her mother: haughty, blonde, blue eyes,  lean and statuesque, slipped the gun down between her breasts, the barrel rubbing tight against the leather as she pulled the zipper up to her neck.  The soft leather catsuit was tight around her torso before flaring out at the leg over her favorite Louboutin biker boots.   She had been waiting for this moment–the opportunity to put all the training to good use.
They hugged, mother giving daughter a light kiss on the lips, before stepping back to watch her daughter take her leave out of the door.  It was time.
The mother poured herself a drink, Macallan Whisky, straight up, and sat down on the chair; two mobile phones were on the desk in front of her; she reached for the cheap throw away phone to make the call.
The man answered on the second ring.  No greeting, just a distinct and familiar voice brusquely  informing him a girl was on her way over. The phone disconnected before he could say one word. The call itself did not surprise him, but what did is that it was she who had made the call. She had always been obvious in her disdain for any contact with him. He grinned in the thought of her actually having to procure a girl for him. The usual arrangement was that some minion would arrange for a whore to come to his hotel. He had made no secret of his proclivity for certain sexual perversions, and one of the provisions when he was first  'turned' was that he would expect certain favours be granted him.  The exchange of documents and cash had taken place earlier that evening. Now he was wanting the whore. Continue reading →