"The only gift I have to give, is the ability to receive. If giving is a gift, and it surely is, then my gift to you is to allow you to give to me." Jarod Kintz
The GREEDY BITCH BANK – Intelligent, sophisticated, procurement of your hard-earned money.
CONSTRUCTIVELY CONSPIRING TO DRAIN YOUR MIND AND YOUR ASSETS.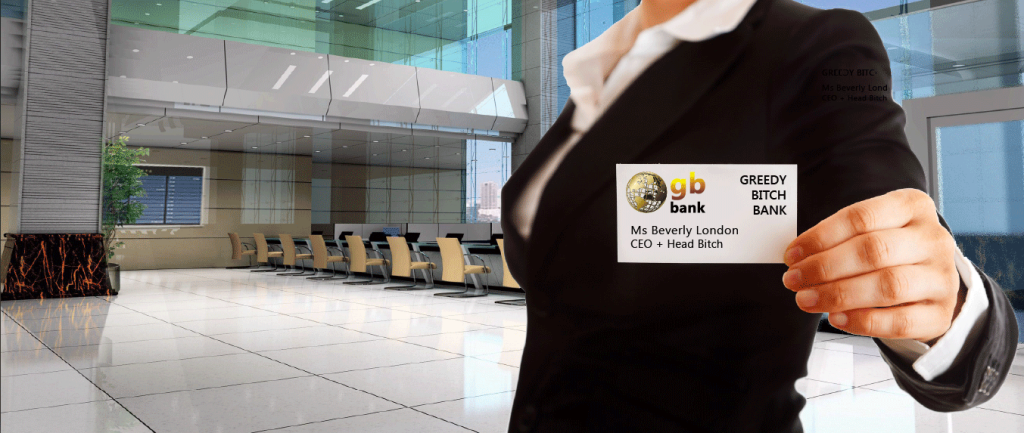 Are you bored of the plethora of fake princesses? Do you want to be used in a way that leaves you feeling both rewarded and remorseful? If so, this should be your bank of choice. I am the street savvy business woman, the fearless city bitch, the posh executive in the business suit. I'm the financial matriarch  of your dreams and desire.  Always the professional, whether it be exchanging pleasantries or debasing, teasing, taunting, instructing, laughing, asserting, interrogating, manipulating, encouraging,  overtly hypnotizing and/or covertly capturing.  Someone has to stay in control, and obviously it is better if you don't and I do. Better to let the professional keep her eye on the ball(s).
A little background: Born in the UK., after college, I started my business career working for stockbrokers on Threadneedle Street.  I've worked in London, Barcelona, and now in Southern USA.  I went back to college here in the US., and then found it more profitable to be my own boss, make my own rules, and work my own hours.  I had done this for some time, before incorporating Niteflirt as one of the platforms to extend my income power; I've never had reason to look back.  With my business background came the idea for the bank – the perfect environment for lucratively making use of my talents on the suspecting and unsuspecting target.
To learn more, don't forget to check out the many different ways the bank can help you dispose of your money: Just click on  Bank BUY NOW and also Hypnosis BUY NOW
In the meantime…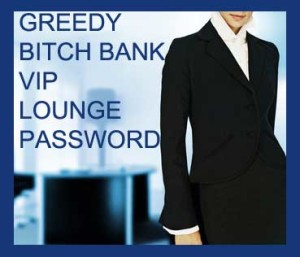 If you are shy to call or just curious to know more, a good way to get to know the bank is through Access to the VIP Private Bank Lounge.
A one time fee $5.99  gives you access to a very special blog. VIP Access HERE:

Want an ho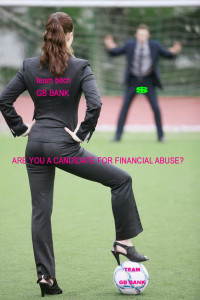 nest opinion of whether Financial Domination is for you? Purchase the 'AM I A CANDIDATE FOR FINANCIAL ABUSE?' Questionnaire, and answer the questions truthfully.  You will be pleasantly/unpleasantly more informed by the impartial grading result and evaluation, which will be mailed back to you once we receive your completed questionnaire.

Follow me on Tumblr  –    GBBank on tumblr