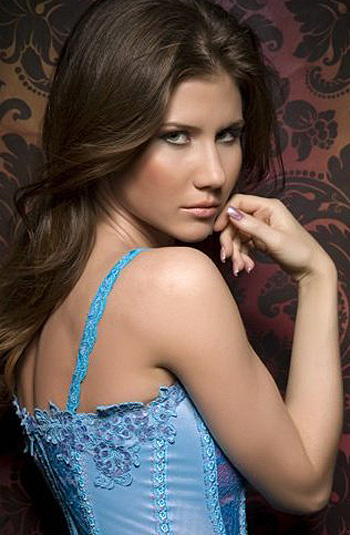 Sex, lies & female spies
By Gayle Schoales
July 18, 2010
Move over James Bond. It's out with shaken Martinis and in with Cosmos. Like suspected Russian spy Anna Chapman, 28, just under half of the UK's 3,500 'spooks' are women and, according to experts, it's feisty, fearless females who make the best spies. With pistols concealed in their designer handbags and lipsticks doubling as listening devices, women are putting their feminine skills to good use, forging careers in what has traditionally been a man's world.
"Female spies like Anna Chapman use their sexuality to their advantage," says Claire Thomas, co-author of Spooks: The Unofficial History of MI5. "An attractive, intelligent woman can ensnare a man and get him to lower his guard. She'll turn him into putty in her hands and get the information she needs. She doesn't have to use sex – but it's a powerful weapon."
While us girls might lack the physical strength of our male counterparts, in the world of spying, that's not a problem.
"Espionage is more about gathering intelligence than getting into Jason Bourne-style fist fights," explains Claire. "Male agents don't have an advantage. If anything, women are mentally much stronger than men. They can cope with pressure better, and the demands of leading a double life."
The sexier the spy, the better
As for Bond-girl looks, traffic-stopping beauty can actually be a hindrance rather than a help. "Depending on the mission, the agent might want to be unremarkable and fly under the radar," says Claire. "If it's a honey-trap however, the sexier the spy, the better."
When he founded the British Security Service (MI5) in 1909, Sir Vernon Kell stipulated that female agents had to be "well bred and have good legs". And in the '30s and '40s, MI5 spymaster Maxwell Knight recruited sexy women to go on missions to ensnare men with German or Russian links.
"Women are more likely to be sent on corporate missions these days, where they can get jobs in offices that allow them access to files, or have drinks with well-connected people," says Claire. "But the essence of their work is still the same.
"They can exploit men's vanity, seducing them into telling them what they want to know. Men don't suspect women asking strange questions in the same way they would a man."
Why women make better spies
"Women are used to taking on many roles – being one person at work, one with friends, and another with our bloke or kids," says psychologist
Dr Funke Baffour. "We manage these seamlessly and almost have 'double lives' already. Women are also better at lying and keeping secrets than men. We think through possible problems and outcomes before speaking, so are less likely to be caught out."
One who did get caught out is ANNA CHAPMAN, Russian Spy 2010
Anna Chapman was kinky and 'great in bed,' says ex husband Alex
BY LUKAS I. ALPERT
DAILY NEWS STAFF WRITER
Monday, July 05, 2010
She may have been a true Cold Warrior, but Anna Chapman is red-hot in the sheets.
The flame-haired Russian hottie accused of being a deep-cover mole in the U.S. was a wild woman in the sack, her ex-hubby says.
"Anya was great in bed and she knew exactly what to do," said Alex Chapman, who married the then-Anya Kushchenko in 2002. "The sex was great and she had this incredible body."
Chapman told the British newspaper News of the World that he met the stunning spook at a rave in England in 2001 and immediately fell in love.
"I hadn't met anybody like her before," he said. "I was infatuated with her."
They began a torrid affair, which Alex Chapman says quickly veered into kinky territory.
The randy Russian had a penchant for whips and nipple clamps and once joined him in a mile-high sex romp aboard a Moscow-bound flight, he said.
The poor hubby never thought he was married to a spy — except for that one time a Persian prince got them into a nightclub, and now that you mention it, she was friends with a wealthy guy called Sergei who had a Green Card for no apparent reason. Other clues: Anna loved watching James Bond movies and Benny Hill.
Apparently, Anna left Alex on account of her expensive tastes, picking some guy who could buy her a Cartier watch over him — which perhaps explains the ultimate payback of him selling their sex pics to The News of the World.
How nice of him to release such intimate photos to the media.  Obviously, no ill-feeling on his part, just… GREED.   They had something in common, didn't they?
After the divorce, Anna moved to New York City and there ran a successful real estate company, living the high life and garnering some influential and rich Russian and International clients, as well as lovers.
All was going well, until an undercover FBI agent attempted to draw her into a trap at a Manhattan Starbucks. The FBI agent offered Chapman a fake passport with the instructions to forward it to another spy. He asked, "are you ready for this step?", to which Chapman replied, "Of course." She accepted the passport. However, after making a series of phone calls to her father, Vasily Kushchenko, in Moscow, Chapman ended up heeding her father's advice and handed the passport in at a local police station, but was arrested shortly after. After her arrest by the FBI for her involvement with the Illegals Program, she was formally charged with nine other detainees and became part of a spy swap deal between the US and Russia.
Back in Russia, she has gained celebrity status and is seen more as  a heroine rather than a femme fatale. In the Russian edition of Maxim magazine in October, she stated: "Seduction, like love and friendship are the same everywhere," when asked which men are easier to seduce, Russians, British or Americans.
"Most men are divided in three categories: primitive, those that only want sex; smarter, those that want to be loved and [the] last group — those that not only want to be loved, they also need that this love will be the biggest and most amazing feeling in your life," she said.
Chapman, who once claimed to be a wealthy realtor, has since been hired as an adviser to the president of FundServiceBank, an authorized bank of the Russian space agency, and hosts a TV show.
And these photos might explain US Vice-President Joe Biden, when jokingly asked by Jay Leno on NBC's The Tonight Show with Jay Leno, "Do we have any spies that hot?", replied in a mock serious tone, "Let me be clear. It was not my idea to send her back."