Matador, Directed by Pedro Almodovar
Stars: Assumpta Serna  Antonio Banderas  Nacho Martinez
Year: 1986.  Spanish with English subtitles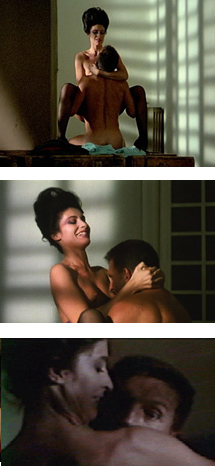 What do a particular matador and a female sadist have in common?
Blood lust.
It isn't everyone whose adrenal glands are so blocked that they need to ride roller coasters endlessly or sky dive without parachutes or whatever. But in this wicked and wickedly clever 1986 movie, viewers get to nuzzle up to the twisted inner workings of some characters I find quite lovely and charming.
A retired matador whose aged reflexes keep him out of the ring. And a quite fetching woman who, early on, wraps herself around her casual lover and leaves the most perfect, round lipstick imprint on the base of his neck. Having somewhat similar sympathies and a dislike of protracted agony without ecstasy, I'm quite glad that her hatpin is sharp as she imitates the ritual of life and death in the bullring with an estocada. The moment that she plunges the estoca in, the moment that he's paralyzed, inflamed and erect and beyond reason – that final, fleeting gasp of breath – how priceless. It sends her quite over the edge.
I do admire a woman who knows what She wants.